Claiborne D. Bell of USI Holding Co. and Michael Poole, owner of Hot Chocolat in Pooles Maker Space. USI Holding has been home to many chefs whose ambitions led them to start their own businesses.
Photo by Patrick Robinson
Lots of people love to cook, and for some, that passion first led them to a profession, then to the pursuit of something bigger.
This is a major reason USI Kitchen Rental has existed in the West Seattle Triangle for so long. It is a commissioner / kitchen rental that is home to some notable local grocery suppliers that are surprising in their variety and size.
The companies that rent space there in 4611 37th SW include caterers, grill manufacturers, food trucks, confectionery manufacturers, tea machines, pot pie bakers, coffee roasters and more.
You have 3 different levels of kitchen rental in the facility.
1. Full time = With key access come and go as you like, use all devices and storage
2. Part time = No key, business hours only, device restrictions, and no storage
3. Hourly = no key, access only during business hours, device restrictions, hourly payment, no storage space
It is run by Claiborne D. Bell and has been run by his mother and father Samuel Bell & Belinda Butler-Bell for two decades. After graduating in Regional Economics, he joined the company for "six months" in 2008 and has been there ever since.
With USI, companies can use their extensive equipment and kitchen space for an agreed time to prepare their food. You have three different rental levels to choose from, so regardless of the size of your business, you can be accommodated at a fair price. USI Kitchen Rental also serves as a distribution point for some companies like The Pot Pie Factory where consumer orders or delivery services can be picked up.
Bell said he loves helping small businesses find their way around and get started. Some move into their own shop. "Before the pandemic there were about five other companies operating out of here, but some were restaurant suppliers and when this business closed they had to stop. Some of these are now coming back as these companies have changed their business models and restaurants are opening again." Bell explained.
Chef Patrick Fagan back here is the driving force behind Green City Kitchens. Photo by Patrick Robinson.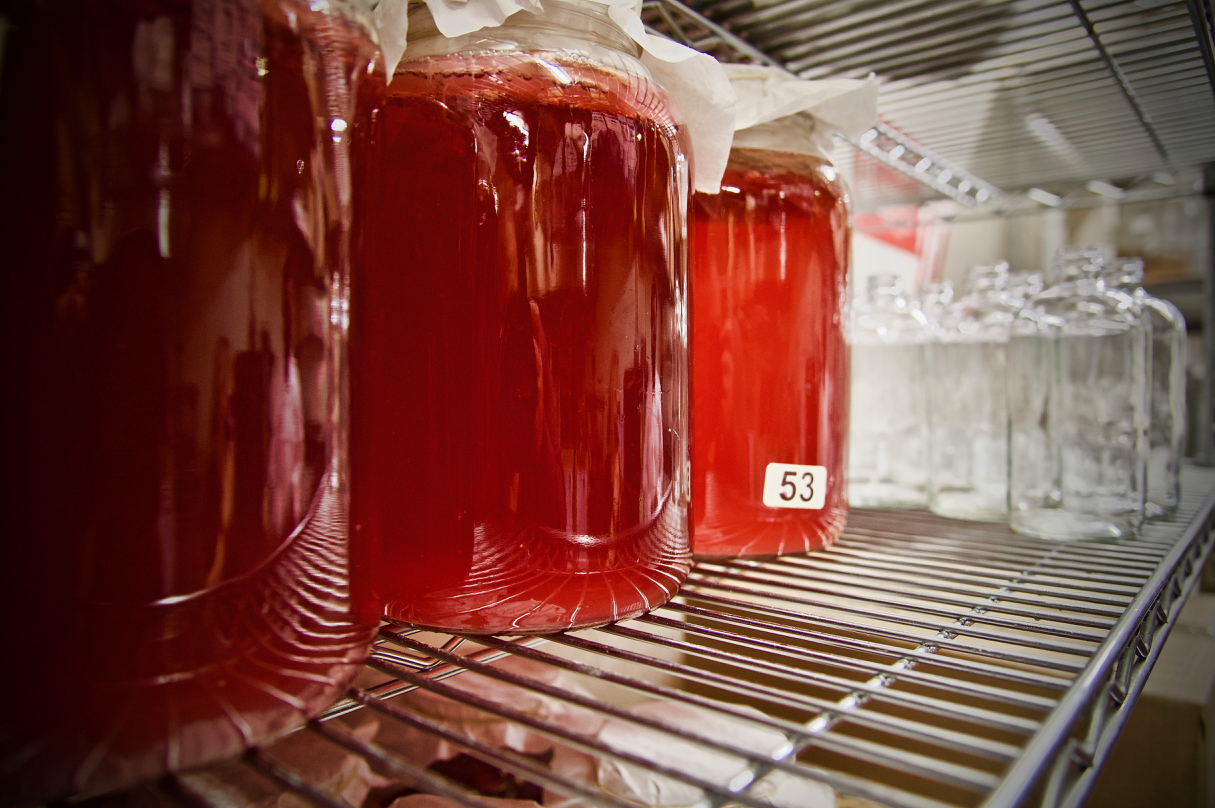 Kombucha tea produced by the Kombucha Company in large glasses. Photo by Patrick Robinson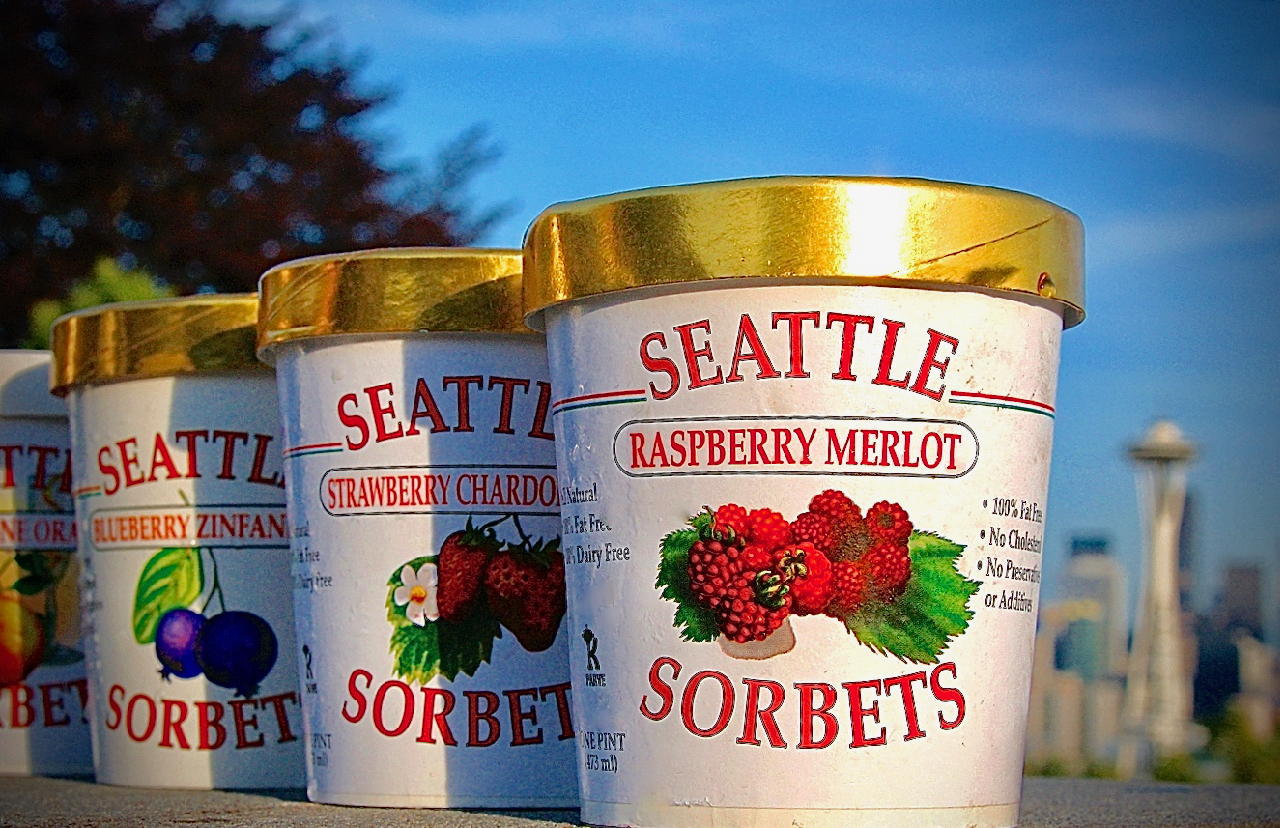 Seattle sorbets come in different flavor combinations. Photo courtesy of Seattle Sorbets
Here's a little bit about who produces food there.
Precise catering –

Precise Catering has served the Seattle area with all types of gourmet catering for over 25 years. Weddings, corporate events and everything in between.

Green City Catering –

With Green City Catering, you can buy retail meals, cakes, pies, cheesecakes, and many other delicious groceries available in many local retail stores. HSI tenant for 8 years.

Hot chocolate –

Michael Poole uses the kitchen equipment for chocolate and macaron courses. He also sells handmade and hand-painted chocolates and macarons on his website.

Girls Gone BBQ –

Girls Gone BBQ has been a tenant for 5 years and has grown from a one-woman operation to a crew of 5-6 people during their busy summer summer. She does a lot of corporate catering and has been a salesperson at the West Seattle Farmers Market for over 5 years.

Panchitos lunch box –

Gerardo owns and operates several Mexican food trucks. His brother mainly works on construction sites, but also takes care of large events with 1000 to 1500 people.

Ty Food Truck –

Yo Yo and her husband Tim have rented for 3 years and they own and operate a really good Teriyaki food truck. They also do corporate catering

Temple pastries –

Christina was a talented pastry chef at Café Besalu before going into business for herself. She was named one of the top five pastry chefs in Seattle Magazine in 2018. It also started as a one-woman business and now has two employees. She opens a coffee shop in Seattle's Central District in October.

Renees Roca –

Renee has been making world-class almond roca for years and eventually started her own company after years of being told by her family. Renee sells her almond roca at farmers markets, and it's in some tasting rooms in the Woodinville wine region.

Ace Laboratories –

Chip Jacob makes resveratrol lozenges that he believes have healing properties. Resveratrol is a natural plant polyphenol found in red wine. It has been shown to mimic the effects of calorie restriction, exert anti-inflammatory and antioxidant effects, and affect the triggering and progression of a variety of diseases.

Sieved tea –

Sonia Carlson started Sifted Tea less than a year ago. They source their bowls from organic cocoa farmers in Ecuador. They dry roasted cocoa beans in the warm sun and sort them by hand to get only the best quality. The pods are carefully separated from the spring after perfect roasting. Your cocoa tea is high in cocoa butter and antioxidants.

City & Country Coffee –

Lance Leasure has been roasting custom coffee blends in the kitchen for less than a year. He makes one of the best coffees in Seattle and offers individual blends to selected customers.

Northwest Texas BBQ –

Chris Burris is from Texas, so he knows about BBQ. He will talk to you about BBQ from its origins to today. He's on his way to Texas to pick up a taller smoker who can smoke 37 breast pieces at the same time.

Pot Pie Factory

Boss Logan Niles has been a tenant since February. She was mentioned by the Seattle Times and her orders went through the roof. She had to expand, so she started renting kitchen space here and hired about 4-5 people. The pandemic doesn't seem to have had much of an impact on their business.

I'm looking for Kombucha –

Jeanette Macias & Lyzbeth Bartolome are two Californian girls who moved to Seattle and started a kombucha company. They are very knowledgeable about kombucha and how it helps stomach health. Her most popular flavor is Purple Reign. You are at about 4 farmers markets and adding more as things open up.

Seattle Sorbets-
This is the food company owned and run by Claiborne D. Bell, who owns USI. They produce a variety of flavors including raspberry merlot, coconut, mango sunset, champagne orange, blueberry zinfandel, blackberry cabernet, tequila lime, and more. The sorbets are available at Metropolitan Markets and online WestSeattleLocalFoods.com.
And one of the newest food manufacturers on the premises is Jet City Beignet, whose Mediterranean pastry creations can be found in two pop-ups per week at the USI Kitchen Rental location on Thursdays and Sundays.
Products from all of these companies can be found on a recently launched website called West Seattle Local Foods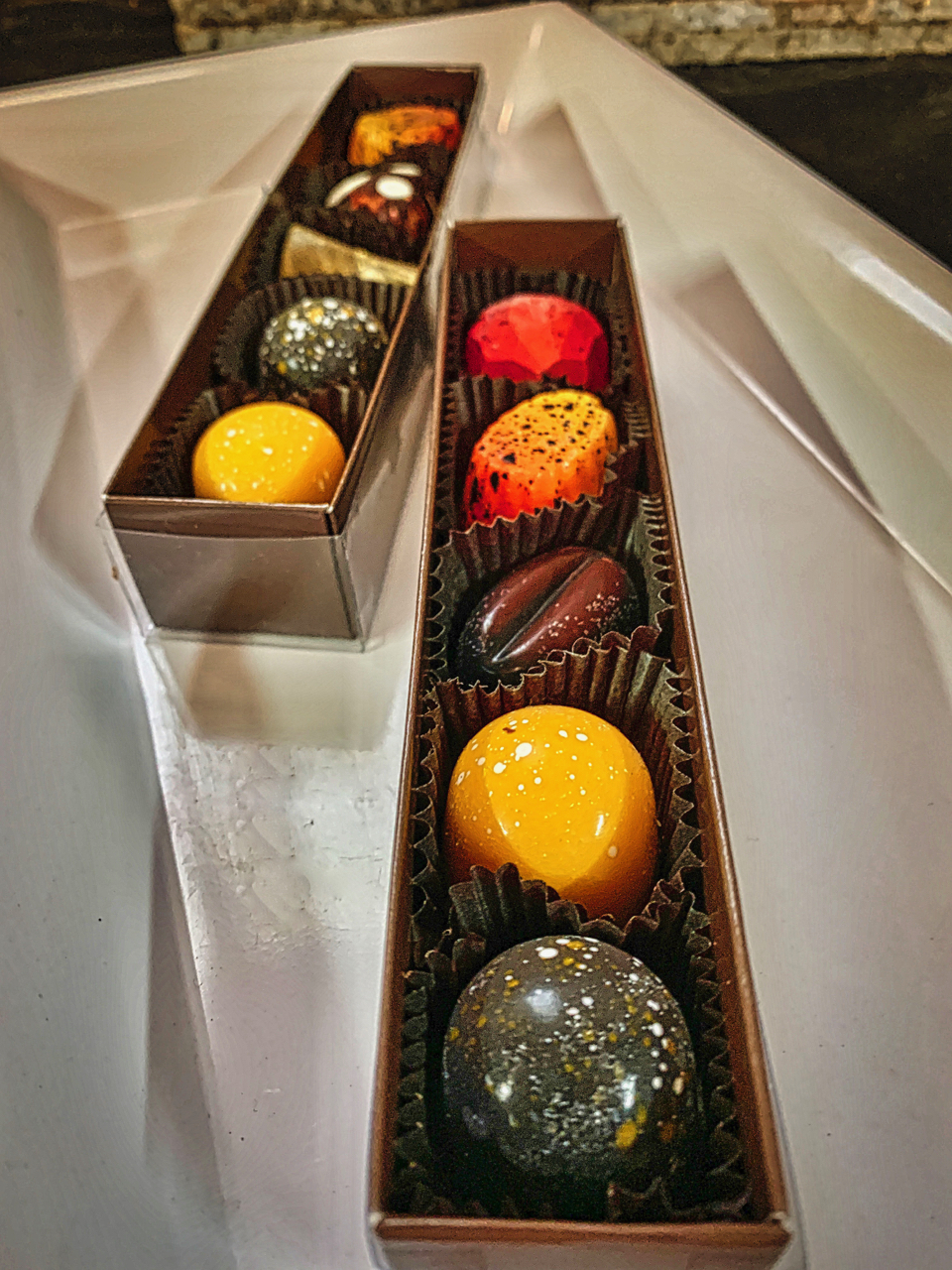 Gourmet pralines from Hot Chocolat. Photo by Patrick Robinson
Hot Chocolat is a rising star
A renter at USI stands out for reasons almost too numerous to mention. Chef Michael Poole is a 39-year veteran of the Seattle Firefighter whose service to the city has taken him across the region, but he lives in West Seattle. As a young man in the department, he got his first transfer by telling the captain he could cook, although that was only partially true. Even so, he threw himself into the task and taught himself the ways and means to feed a hungry crew. His family upbringing was always about food, and he remembered some of those lessons, but found that he had a real passion for it and pursued professional achievement. Even when he was promoted to the department, he took extra hours all year round so he could take three months off each year to go to Paris and attend the most famous culinary academy in the world, Le Cordon Bleu.
Although the course lasts 9 months, he was only able to save three a year so he returned for the next four years. It became a tradition and since then he has been there more than 20 times. On the way he took more lessons, refined and expanded his skills, occasionally did short-term training and thus increased his love of teaching. If you ask him about these experiences, you will likely hear dozens of stories about strict chefs and how he has constantly expanded his repertoire of skills. He has spent time cooking Jamaican cuisine at street fairs and turned to catering, but his courses, held at USI and hands-on for approximately 8 students. The cost of a three hour training session is $ 85. Covid 19 forced him to close, so he reopened his temporarily closed online shop for gourmet chocolates and macarons and orders grew exponentially. He sells them in five- and twelve-piece boxes, each piece has a unique shape and taste. All of them are literally airbrushed individually, which means that each is a work of art.
Believe it or not, he is still ambitious and said, "What I would like to do to become an ambassador for one of the world's largest chocolate manufacturers like Callebaut or Valrona." I learn for a lifetime, "he said.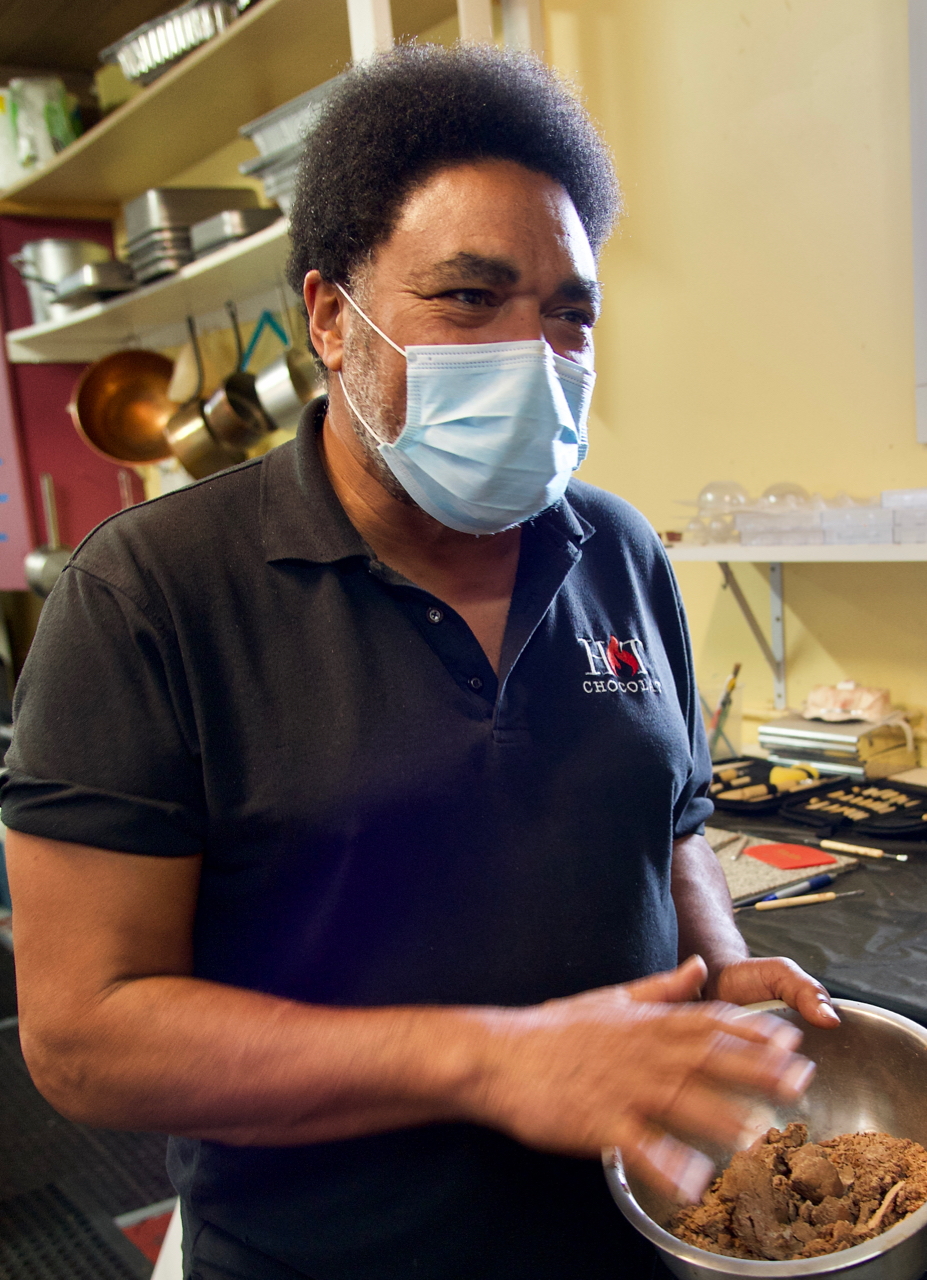 Chef Michael Poole is the owner of Hot Chocolat. The name comes from the combination of his firefighter career and his love for chocolate making.
Photo by Patrick Robinson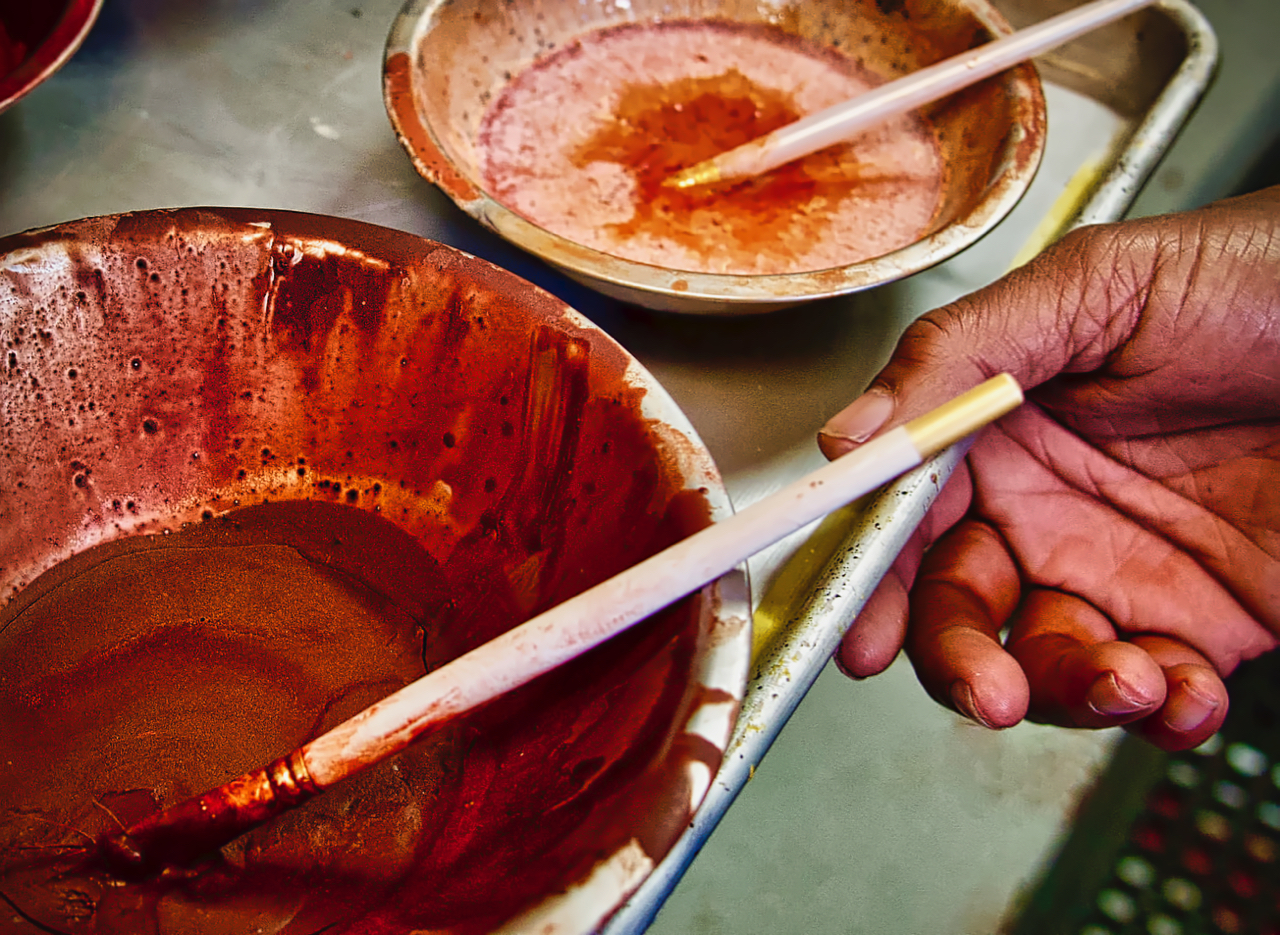 Each piece of chocolate is painted either by hand with a brush or with an airbrush, which makes each piece unique. Photo by Patrick Robinson